Take part in one of ENSTA Bretagne's many student clubs and societies to live student life to the full! You're sure to find an activity to suit you among the many types on offer, including culture, art, science and technology, sports, humanitarian work, entrepreneurship, and more.
1,001 extracurricular opportunities!
The list of clubs is extensive and diverse, and new groups are created every year. The following is a partial listing: if you don't see your favorite activity mentioned, remember that you can create your own club or society at any time!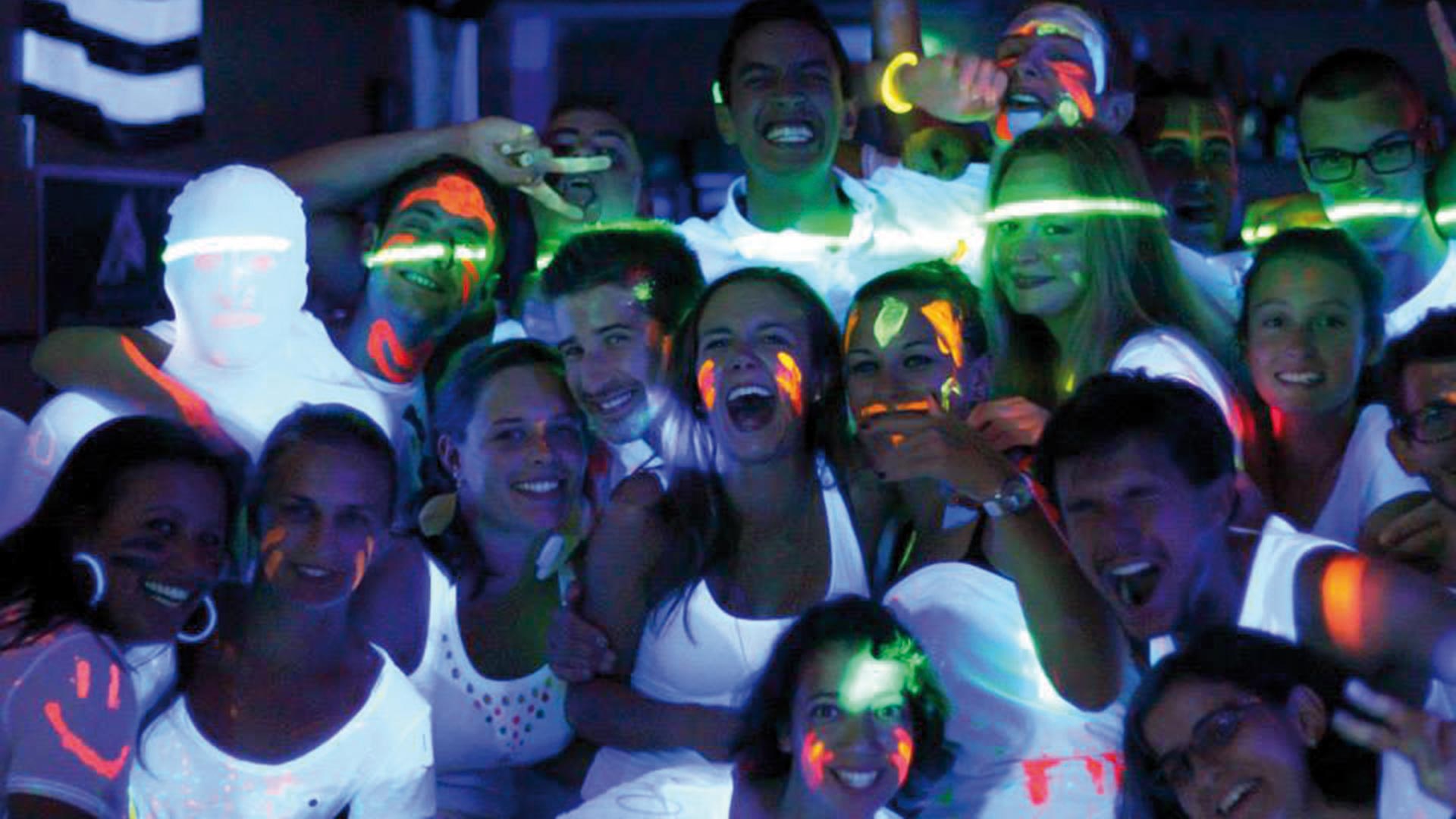 BDE
Le BDE rassemble différentes associations sportives, clubs et communautés pour que tu te sentes à l'aise et chez toi.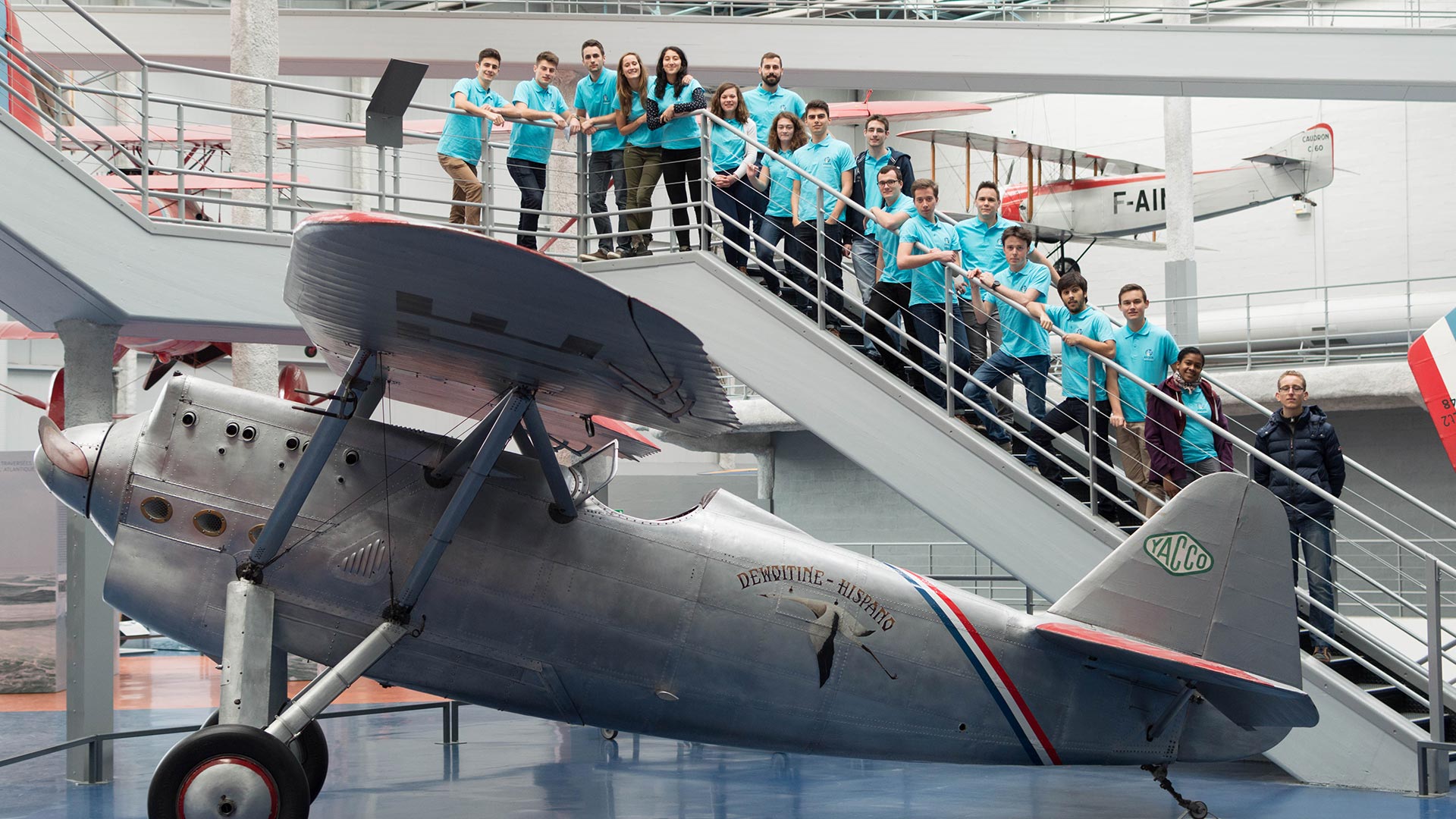 ENSTAéro Bretagne
Tu es passionné(e) d'aéronautique ? Alors viens parfaire tes connaissances avec nous à l'occasion de nos visites de musées, meeting aériens ou encore conférences avec des experts.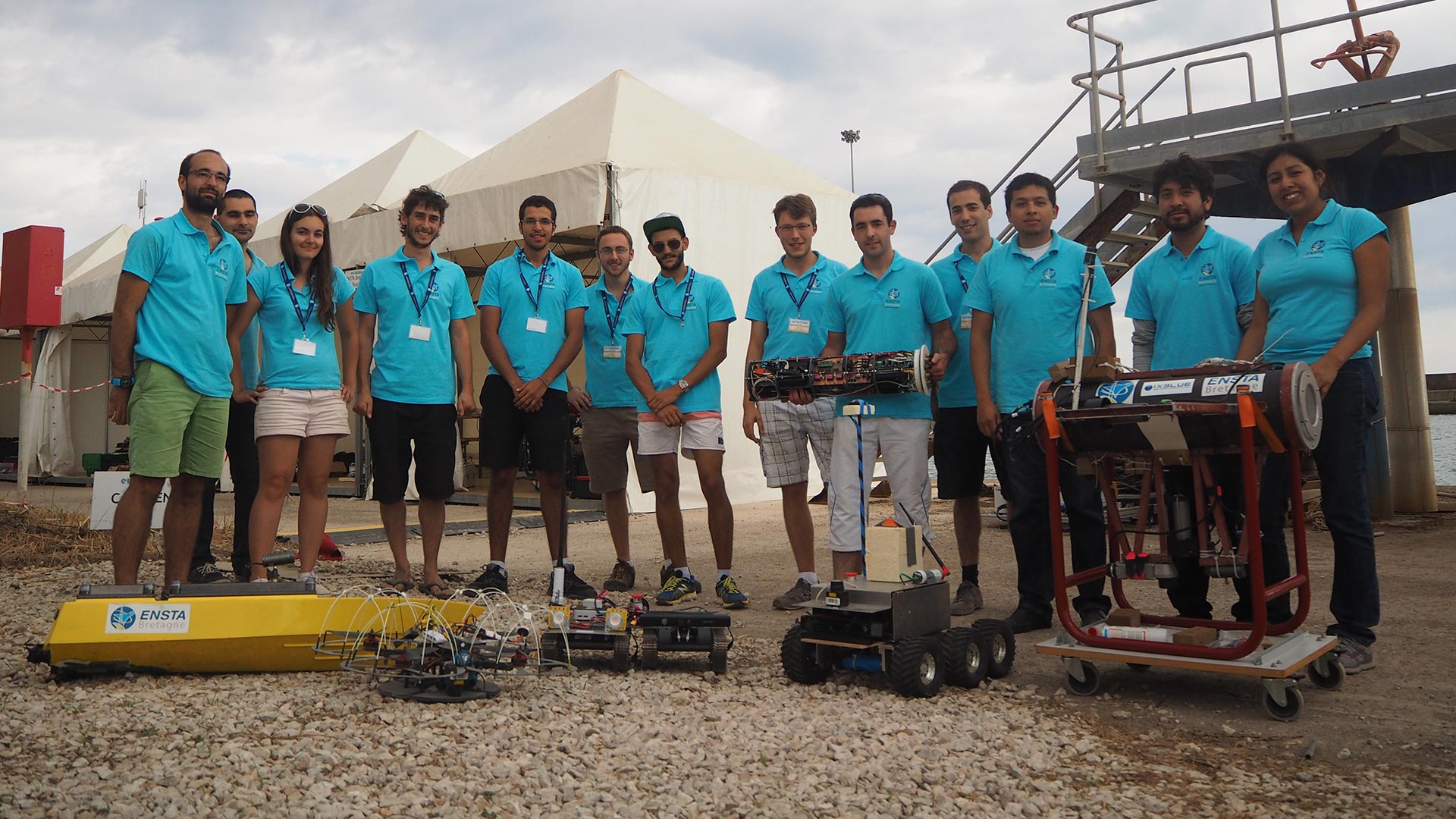 Club robotique
Viens construire tes propres engins, volants, terrestres, marins ou sous-marins, imprimés en 3D ou fabriqués en carbone, et participe à des concours comme SAUC-E ou Eurathlon aux quatre coins de l'Europe !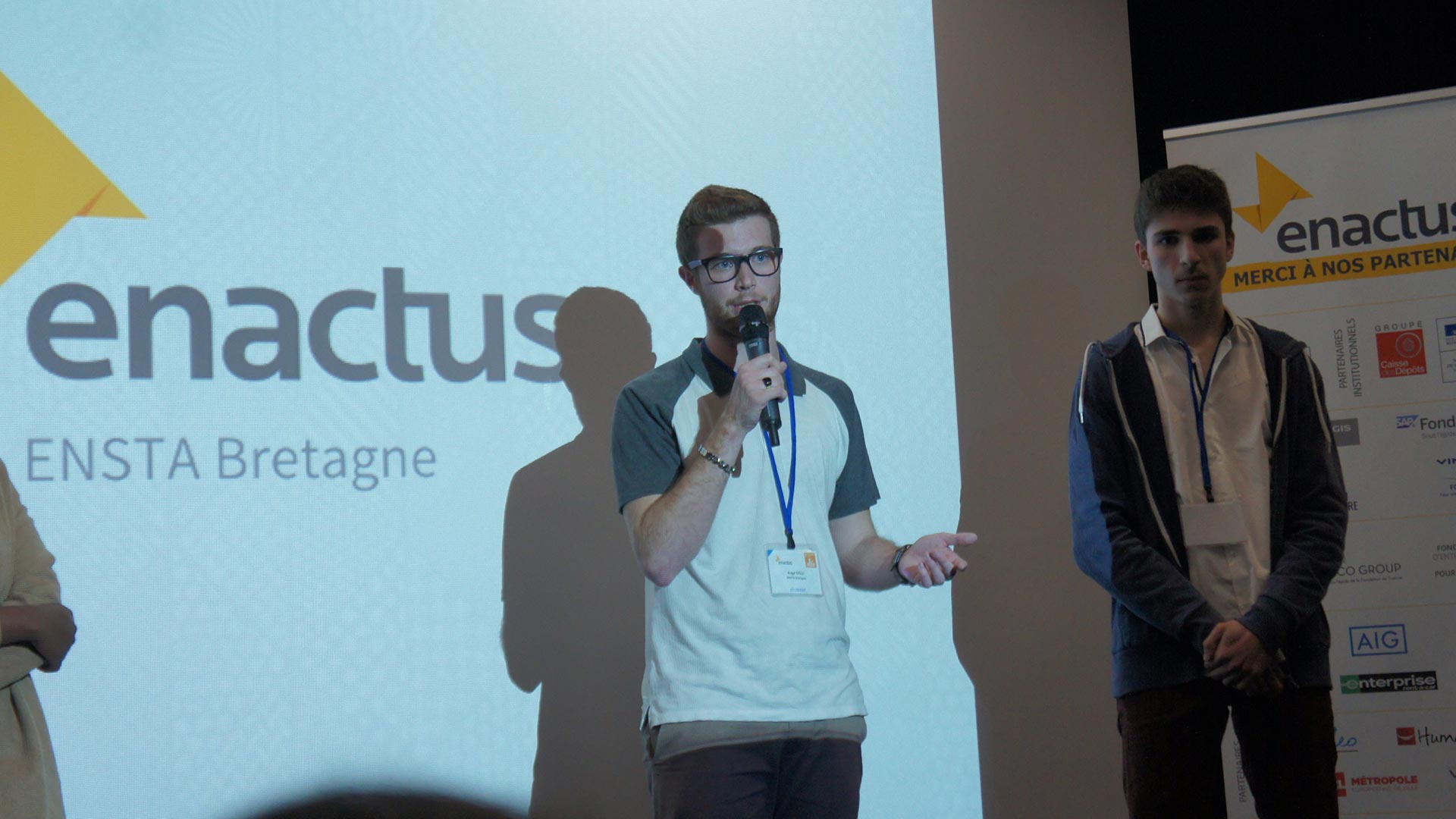 ENACTUS ENSTA Bretagne
ENACTUS est une association destinée à promouvoir l'entreprenariat social en France comme à l'étranger.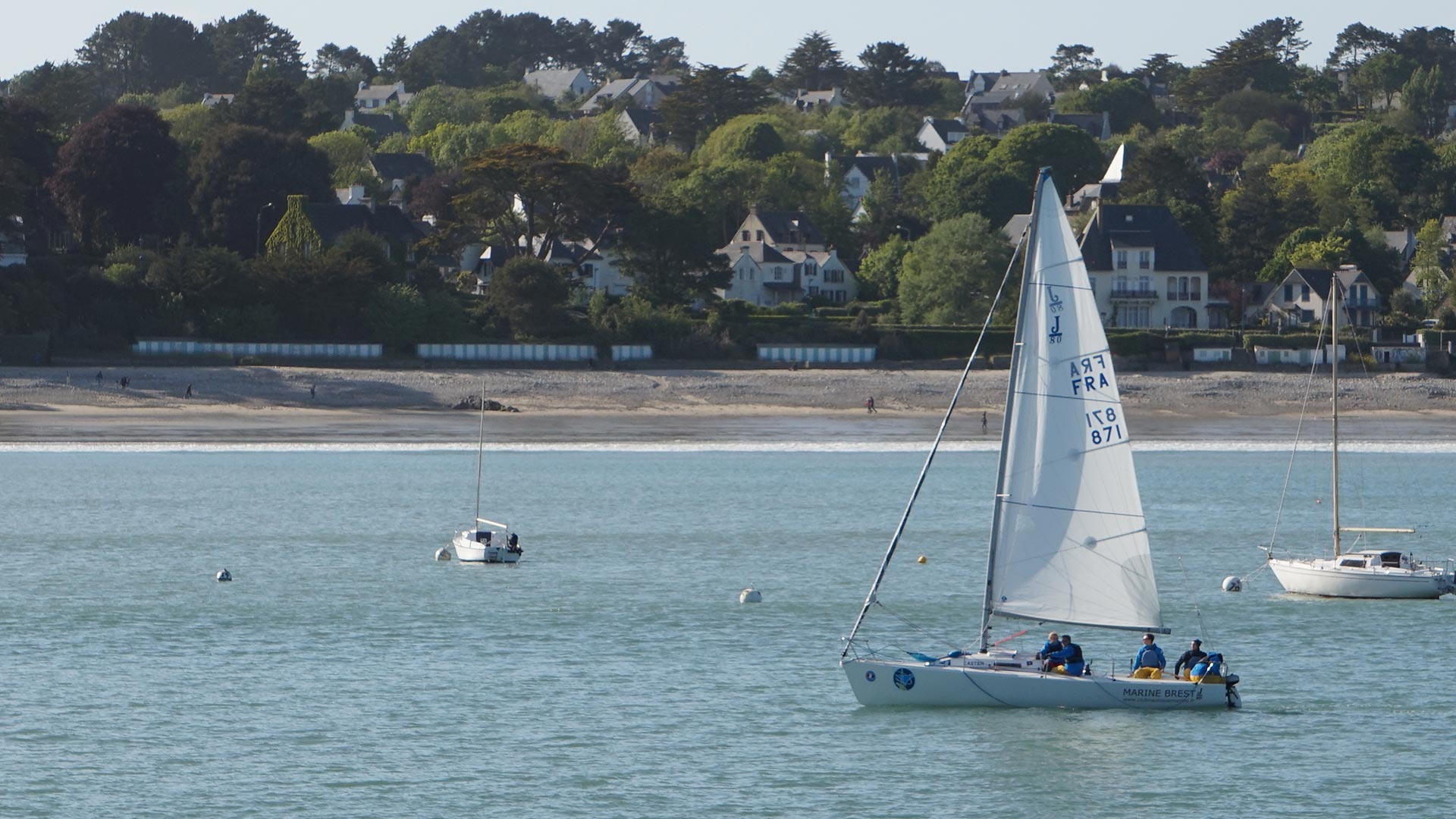 ENSTA Bretagne Sailing Team
Naviguer chaque jeudi après-midi ne te suffit plus ? Embarque avec ENSTA Bretagne Sailing Team. Notre but ? Séclater et remporter un maximum de régates.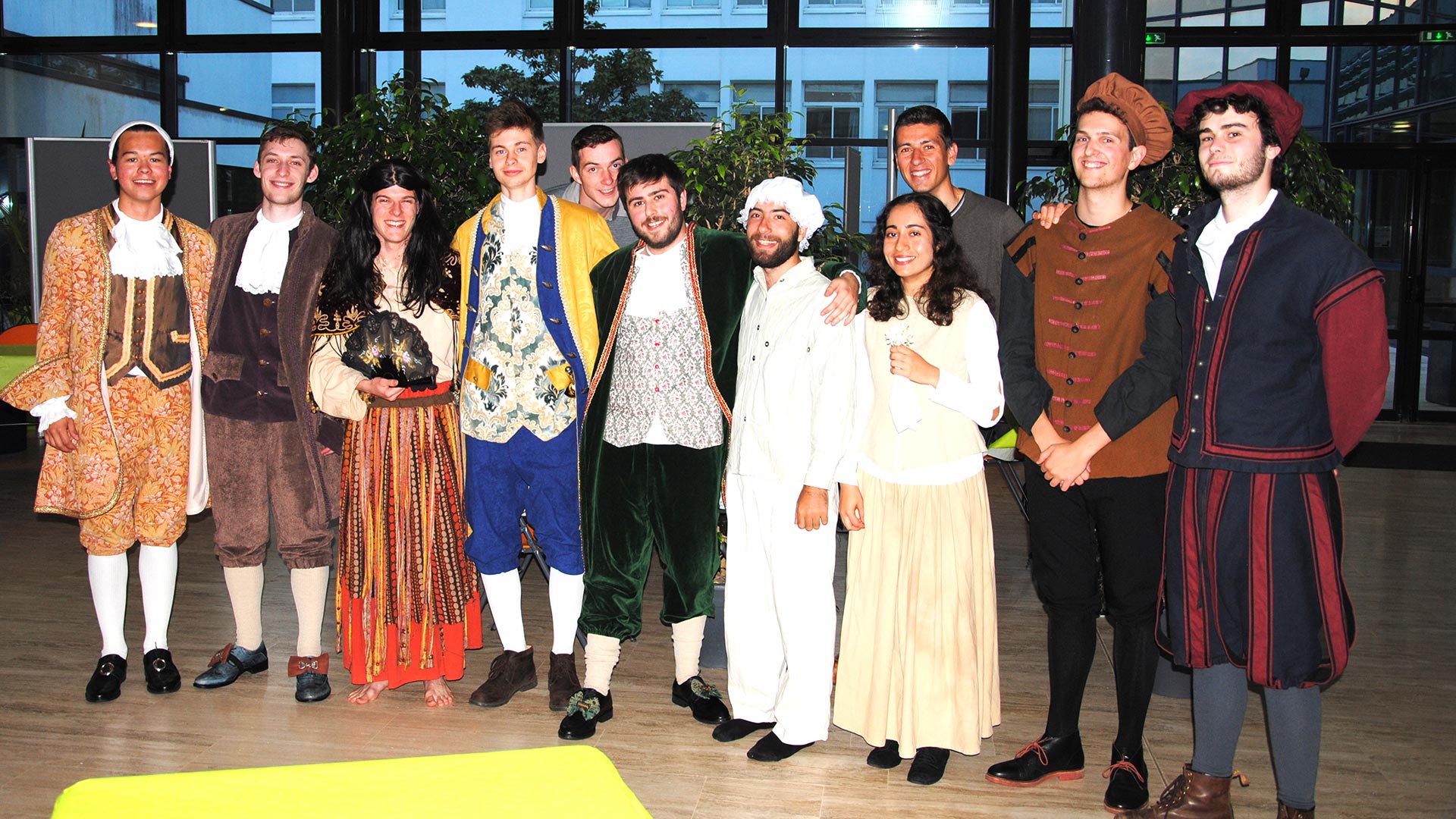 ENSTA'Drama
Que tu sois néophyte ou comédien aguerri, avec ENSTA'Drama tu intégreras une troupe soudée par des séances où improvisation, exercices de théatre et répétitions se mêlent pour finir toujours en franche partie de rigolade.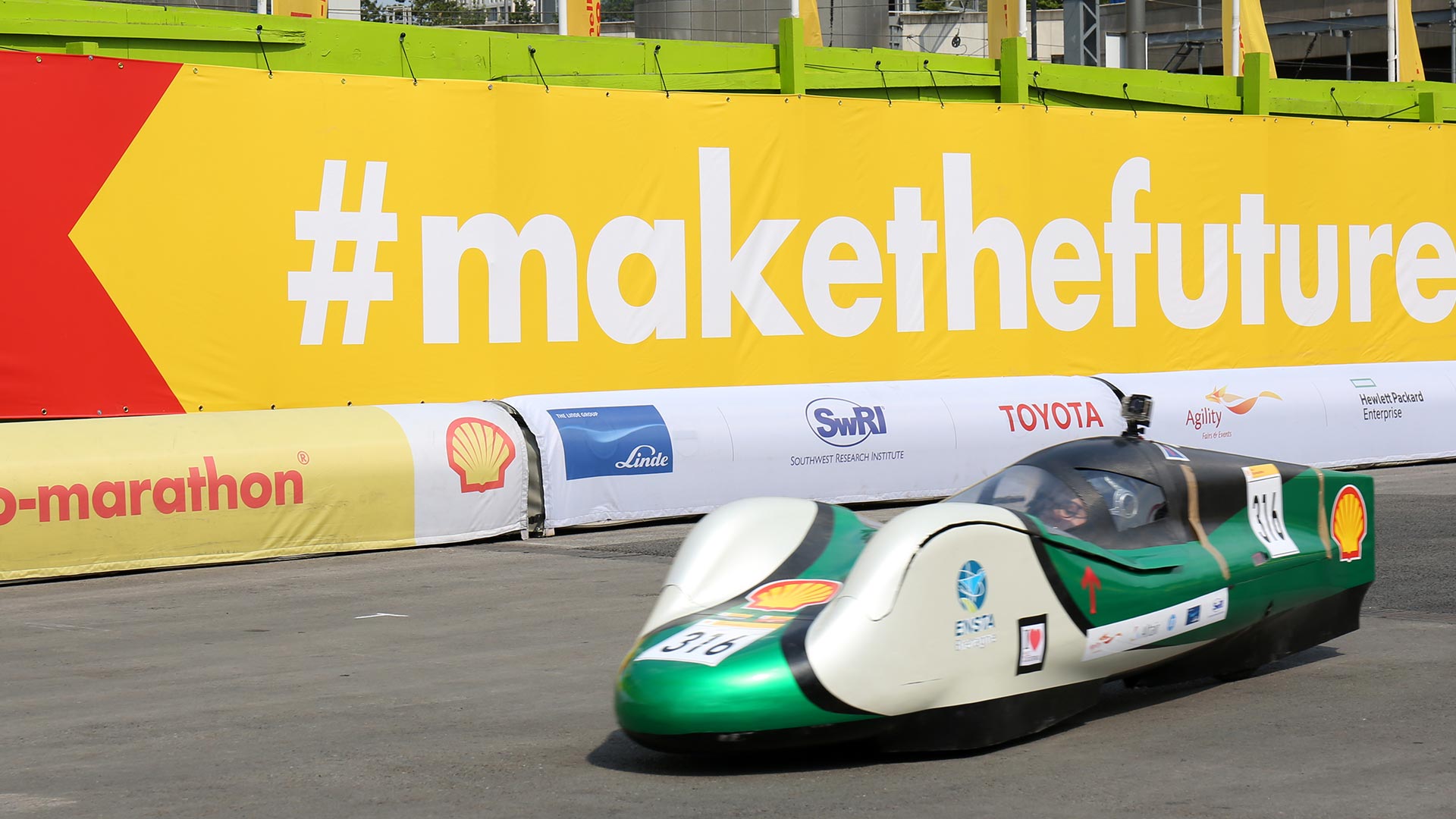 Eco Marathon shell
L'éco marathon shell est une compétition étudiante automobile dont le but est de parcourir le plus de kilomètres avec un litre d'essence.
Spacieta
Avec Spacieta, construis ta fusées de A à Z, conçois une expérience originale et regarde ton bébé décoller à plus de 1500 mètres !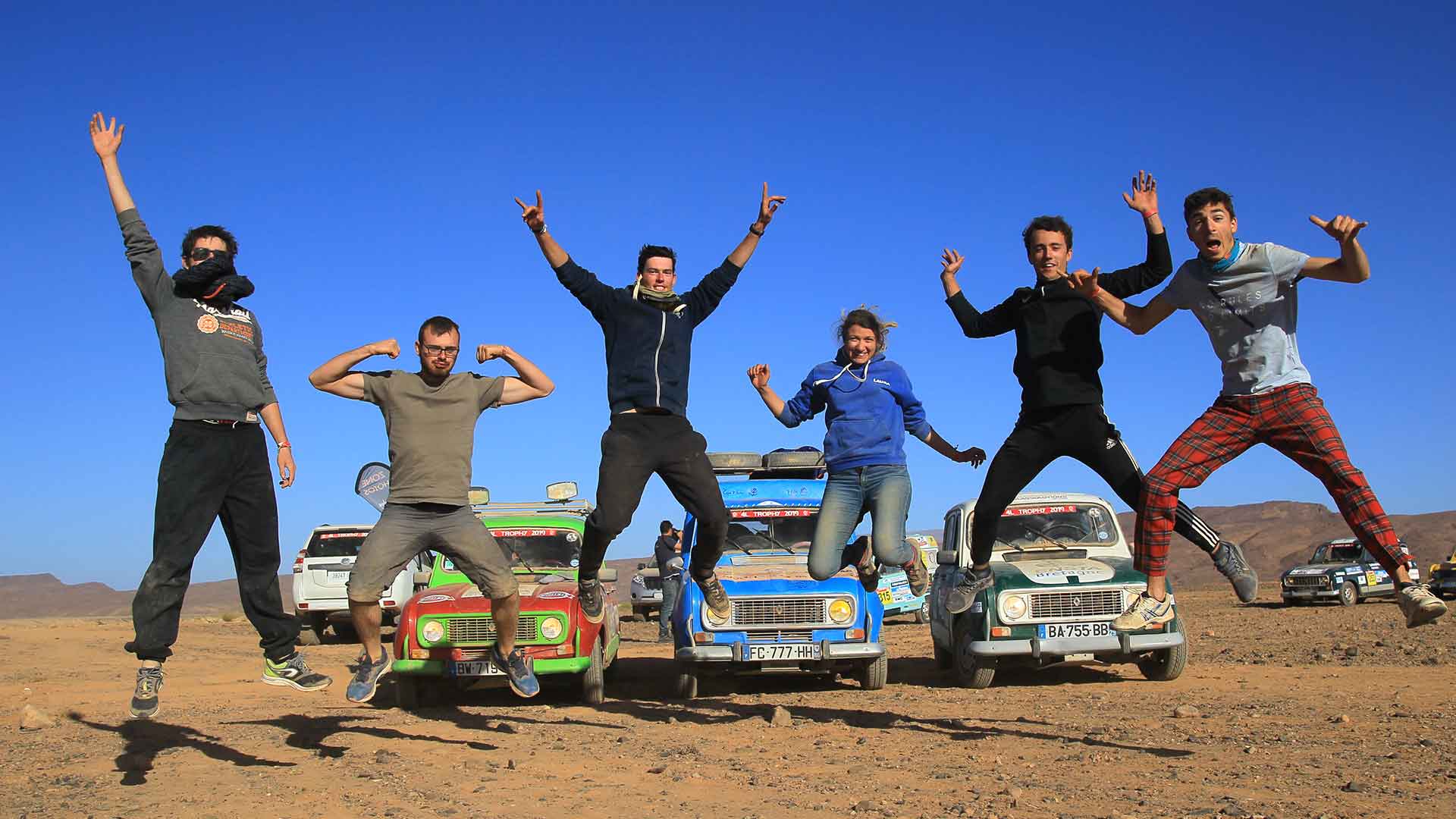 4L Trophy
Chaque année, plusieurs étudiants ENSTA Bretagne participent au 4L Trophy. Un défi sportif, mécanique et humanitaire qui les emmène jusqu'au Maroc.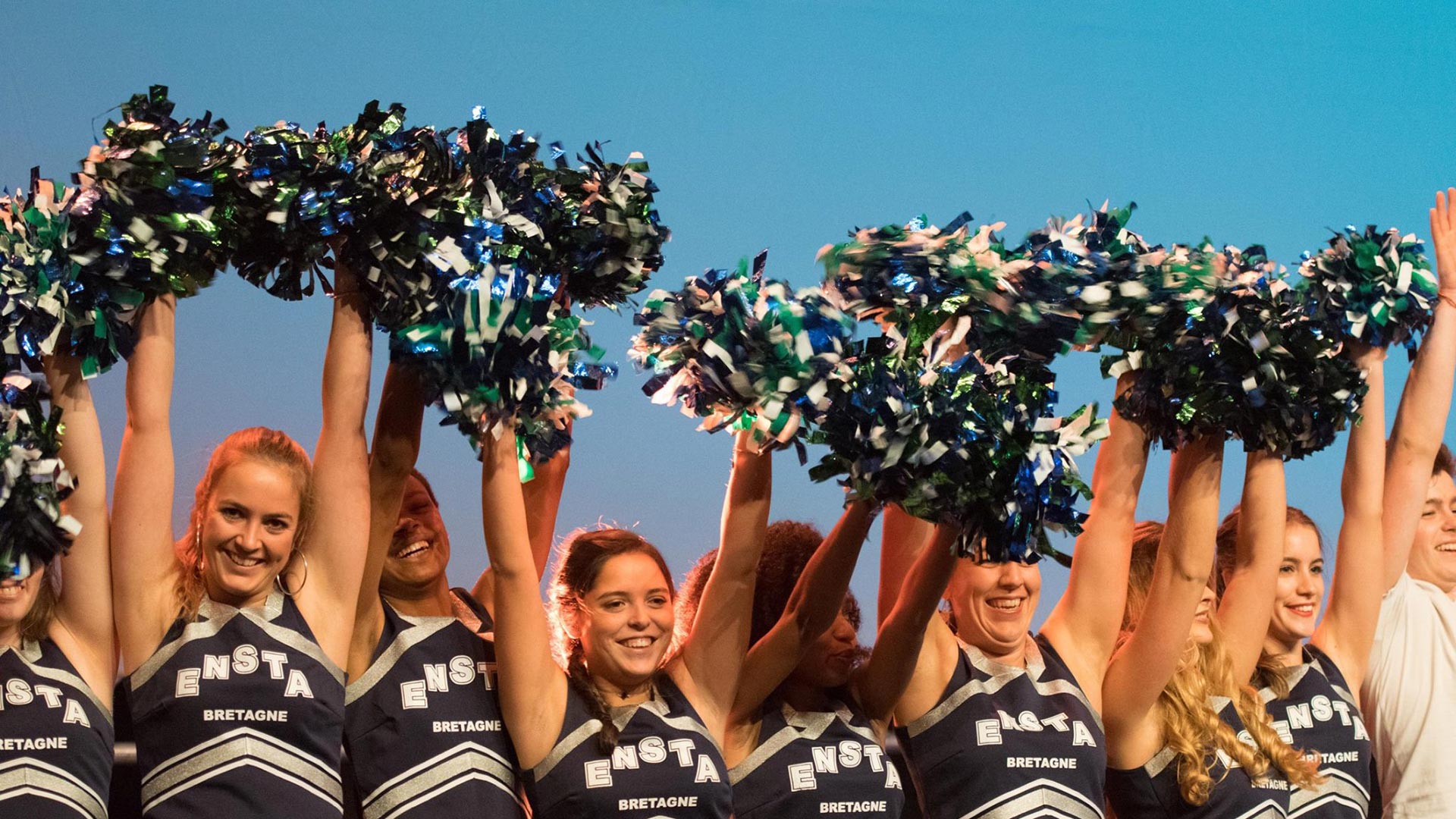 Cheerleaders (pom-pom)
Présente dans les plus grandes manifestations de l'école, l'équipe de cheerleaders est composée d'étudiantes et étudiants prêts à défier les lois de la gravité et mettre une ambiance de folie !
Clubs and societies
Student Union (BDE)
The Student Union is the hub of student life on campus and organizes key events such as student integration, gala dinners, campaigns, etc.  More information
ENSTAéro Bretagne (aeronautics)
Created by aeronautics fans, this club organizes trips to museums, aerodromes, etc. to satisfy members' passion for flight. Pilot licenses and the NAE (Normandie AeroSpace) Challenge also form part of the club's activities. 
 
Robotics Club
The robotics club is made up of enthusiasts who never tire of testing and improving their many underwater, aerial and terrestrial robots. Equipped with cutting-edge materials and technologies, they participate in national and international competitions and bring home numerous awards.
ENACTUS ENSTA Bretagne (social and solidarity entrepreneurship)
This group aims to promote social and solidarity entrepreneurship in France and abroad. They have numerous innovative projects on the go at ENSTA Bretagne, including a robotic waste sorter and a fun cultural awareness kit.
ENSTA Bretagne Sailing Team
Sailing enthusiasts come together in this club, which enjoys frequent success in numerous regattas each year.
ENSTA'Drama (Theater)
Get into character and express yourself! Every year, this club puts on a play and organizes improvisation activities in a friendly and relaxed atmosphere.
Bureau des Arts (art club)
ENSTA Bretagne's art club puts on numerous cultural events throughout the year, including films, live shows, concerts and plays.
Fanfare (brass band)
Always ready to create a little atmosphere on campus, the brass band is a fun-loving group open to musicians of all skill levels.
Dance Club
Every week, a beginners' evening is held: rock and roll, salsa, hip-hop... and a few surprises!
Motorcycle Club
Motorcyclists come together in this club to share scenic rides along the Breton coast. For those who have yet to get their license, we offer discounted rates, and there's room to ride on our passenger seats!
Fish'n Chill (Pêche)
With a campus located near the sea and numerous rivers, the Fish 'n Chill club organizes fishing trips for squid, cuttlefish, mackerel, and much more!
IMPACT Junior Business
ENSTA Bretagne's junior company negotiates contracts in a wide range of fields with SMBs and large companies in a broad range of sectors. Come and experience the world of business!
Shell Eco-Marathon (automotive club)
How far can you travel on 1 liter of fuel? This automotive challenge means optimizing every detail of a vehicle and ensuring that it runs perfectly. Our team has been participating in this European competition for many years, and is at work on a new prototype.
4L Trophy
Every year, a number of teams participate in the 4L Trophy, putting in many months of preparation before reaching the finish line against the magnificent backdrop of the Moroccan desert.
Music Club
The music club has a fully equipped practice space ideal for meeting up with other musicians and participating in no-holds-barred jam sessions!
Club BD / Jeux (comics/games club)
Role-playing games and board, card and figurine games: the members of this club enjoy hanging out around a games table, or relaxing on the sofa with a good comic. Beginners and more experienced players welcome.
Spacieta (aerospace)
Every year, the students of this club rise to the challenge of constructing a rocket from scratch. Their creation is then put to the test at the national C'Space Launch Campaign organized by CNES and Planète Sciences.
YESS: Yeti Sound System
The school's DJ collective enlivens numerous on- and off-campus events throughout the year.
HydroContest Club (Naval & Embedded systems Construction)
This club participates in the annual Hydros Foundation HydroContest on Lake Geneva, striving to design and build the most efficient craft. ENSTA Bretagne takes part every year and has won numerous prizes!
Club des supporteurs de l'école (School Fan club)
This club cheers on ENSTA Bretagne teams from the bleachers and proudly displays the school colors. Their enthusiasm spurs school teams to victory!
Club photo
This club cheers on ENSTA Bretagne teams from the bleachers and proudly displays the school colors. Their enthusiasm spurs school teams to victory!
Cheerleaders
ENSTA Bretagne's cheerleading team is always ready to liven up school events. The guys and girls on this team put on an amazing acrobatic show, pulling out all the stops at show time!
BEST ENSTA Bretagne
Since 2018, ENSTA Bretagne has been a Baby Member of the Board of European Students of Technology. The club organizes numerous events within this international organization in partnership with the 97 other groups located in 34 countries!
ENSTA Bretagne Racing Team: Formula Student automotive competition
ENSTA Bretagne Racing Team was created in September 2018 by student and apprentice automobile enthusiasts.
Their goal: to take part in the international Formula Student competition with a single-seater petroleum-fueled vehicle capable of reaching a speed of 150 km/h and of going from 0 to 100 km/h in 3.5 seconds. 
Citoyens Solidaires (Humanitarian club)
This group was created in September 2019 and focuses on 3 main issues:
Volunteering (supporting other humanitarian groups such as Restos du Coeur, the national food bank, etc.)
Environment (e.g. involvement in the Student Sustainable Development Week)
Education
Citoyens Solidaires Facebook Page