ENSTA Bretagne offers engineering training in Hydrography and Oceanography that prepares students to perform and assess hydrographic surveys, guarantee and certify the accuracy of hydrographic data, carry out methodological studies and rapidly adapt to changing measurement technology, or even contribute to its development.
Career prospects
Participation in coastal and port development projects, offshore platform positioning, creation and updating of marine maps, oceanographic research, etc.
Course content:
•    Hydrography
•    Geodesy
•    Oceanography
•    Bathymetry
•    etc.
Program strengths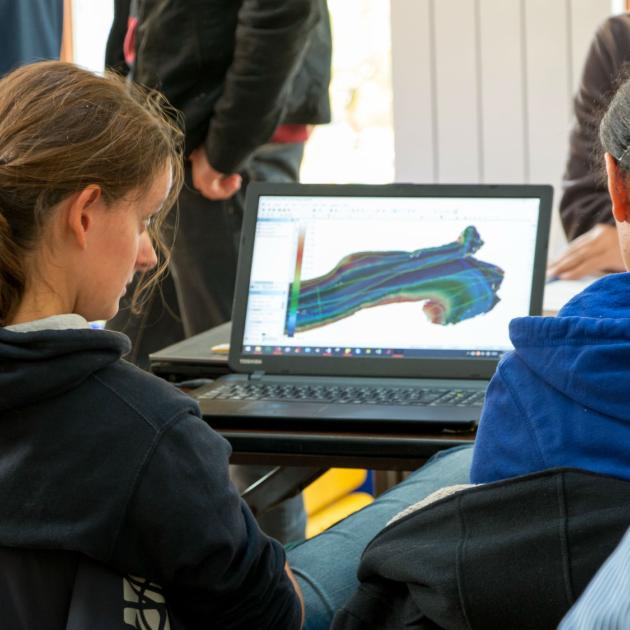 An internationally acclaimed program
ENSTA Bretagne offers the most comprehensive European program in the field, with Category A accreditation from the International Hydrographic Organization.
There are 3 specialization profiles and also possible double degrees
To customize your training, choose one of three specialization tracks:
Hydrography and Data Processing
Marine physics oceanography
Marine Geophysics
In the last year , students can follow a complementary Research Master in « Marine Geophysics » or « Climate and Ocean Physics ».
Cutting-edge facilities for real-world training
The school has a hydrographic survey vessel, an amphibious vehicle and various types of sensors to enable students to carry out surveys under optimal conditions.
A multidisciplinary field project
In their last year, students partner with the school's robotics majors to spend a week carrying out hydrographic surveys at the Lac de Guerlédan.
Numerous partnerships with the private sector
ENSTA Bretagne partners with companies working in the field, who propose subjects for study, lend equipment and provide internships and job opportunities for graduates. 
The specialization tracks
Hydrography and Data Processing
Develop algorithms to validate bathymetric data, analyze the morphology of ocean depths and implement image classification tools. 
Marine physics oceanography
Students learn to describe and understand the principle mechanisms of oceanic and atmospheric dynamics.
Based on oceanographic data (the ocean's physical characteristics: waves, tides, currents etc.), they implement physical ocean models, particularly for coastal areas.
Double degree: This profile is associated with the Marine Sciences Master, "Ocean and Climate Physics" at the IUEM, Brest University. The students can choose from 3 tracks: coastal, deep sea or ocean data sciences.
Marine Geophysics
Students study the methods and rheological laws needed to model crustal deformations for analysis and interpretation.
They learn to select appropriate geological tools for seabed study in specific scientific or industrial contexts: for example, pre-installation analysis (oil industry, mining, marine renewable energies), basic research, knowledge of the environment, etc.
Double degree: This track is associated with the University of Brest's Master in Marine Geophysics.
Two years of specialized study
General engineering students at ENSTA Bretagne begin the 2-year Hydrography and Oceanography major in their second year of study.
The multidisciplinary field project
Every year, ENSTA Bretagne takes students on two one-week field trips to the Lac de Guerlédan, where they can apply the skills acquired in the classroom.
Hydrography and robotics students work together on multidisciplinary projects over the course of each week.  
contact
Nicole Pouliquen
Admissions Coordinator (French students)
+33 (0)2 98 34 87 01
contact
Johanna OGON
+33 (0)2 98 34 87 30